Greta Gerwig's Barbie (2023) is taking the world by storm! The term 'Barbie-core' has been trending since the movie's announcement in 2022, leaving people eager to visit the pink universe ꟷ both at the movies and in real life. It's likely that you'll see people on vacation making memories like a roller-blading tour of Venice Beach, or other activities right out of the Barbie movie. Although it wasn't filmed on movie sets that are accessible to real-life Barbies and Kens, there are still fun locations to see on vacation! In this edition of On Location, discover where to go on a vibrant Barbie-themed vacation.
Where Was The Barbie Movie Filmed?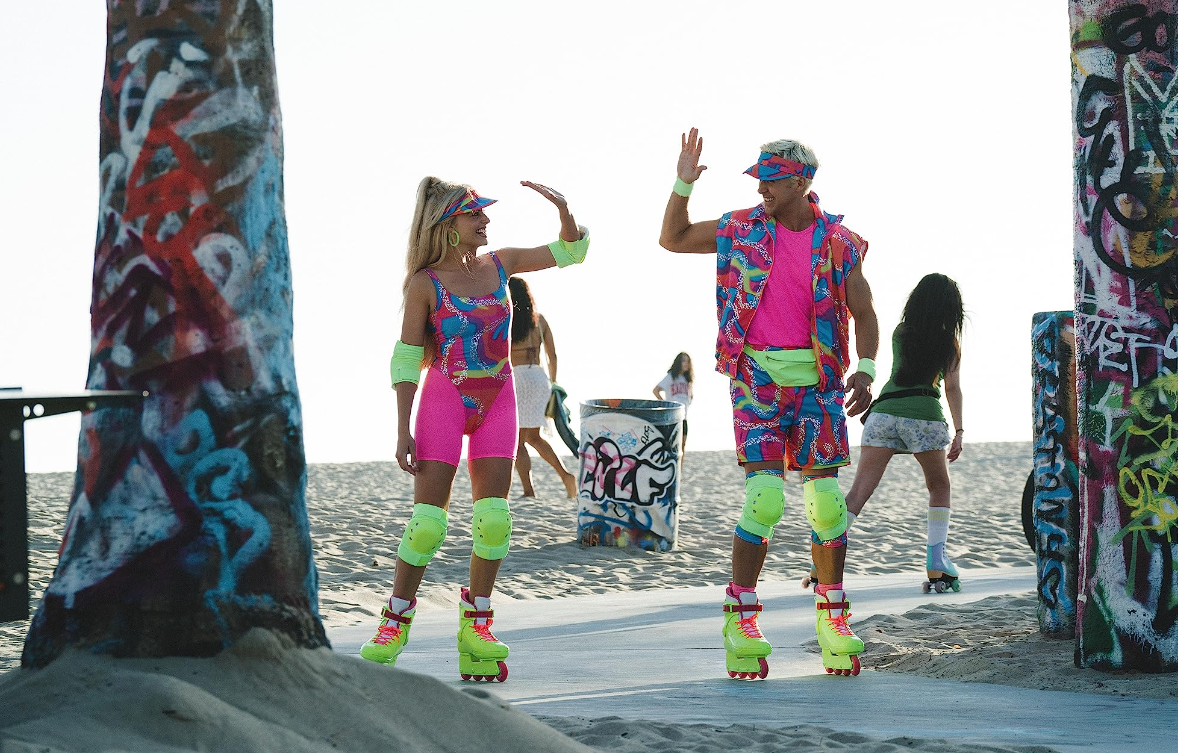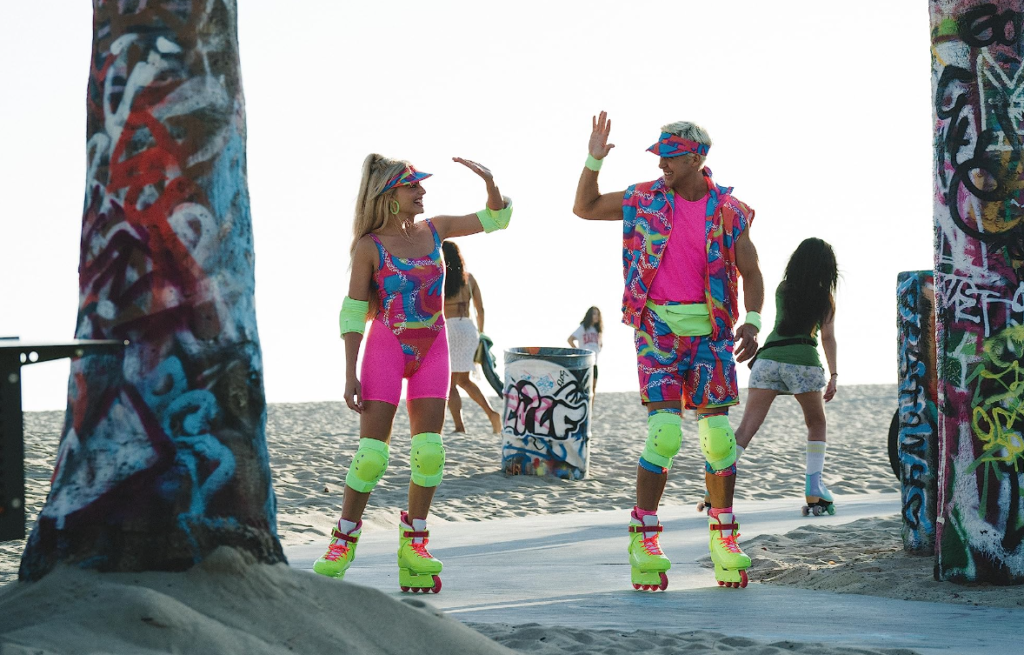 Despite being an American icon, Barbie was primarily filmed at the Warner Bros. Studios in Leavesden, England. After being created by set decorator Katie Spencer and production designer Sarah Greenwood, Barbie's vibrant pink universe — including her Dreamhouse — came to life. While planning the appearance of this integral set, the design team researched various DreamHouses so they could examine their dimensions and design components.   
The filmmaker said that the usage of hand-painted backgrounds, like the sunny San Jacinto Mountains, was done so that the artificiality would appear more realistic than it would with CGI. Gerwig told Architectural Digest, "I wanted to capture what was so ridiculously fun about the Dream Houses. Why walk downstairs when you can slide into your pool? Why trudge upstairs when you take an elevator that matches your dress?" She further said, "There are no walls and doors. Dreamhouses assume you never have anything you wish was private."
Images of Margot Robbie and Ryan Gosling shooting Barbie while donning neon 80s workout clothes and rollerblades were released in June 2022, and the internet went crazy. If clients come to you asking for a Barbie-themed vacation, then this is likely the top spot on their itinerary. These iconic pictures were taken at Venice Beach, which makes it the only real-life Barbie set that clients can visit! The Los Angeles area is recognized for its well-known boardwalk and is situated next to the Pacific Ocean – perfect for a photo op.
Alternative Barbie Vacation Ideas:
In Malaysia, at the Grand Hyatt Kuala Lumpur, your clients can discover the pink side of life. A stay at one of the 14 Barbie-themed suites and a Barbie afternoon tea at the famous Barbie Cafe are included in this theme vacation booking. The hotel provides two experiences: Pink Teatime in a Box and Staycation. The Barbie Room and Barbie Suite are just two of the 14 themed rooms on an entire level that will be transformed into the strong Barbie universe, with every corner covered in the distinctive pink color honoring Barbie's professions. Each unit will be uniquely designed to represent its defining concepts and have a narrative to tell, especially 'Barbie You Can Be Anything' and 'Barbie Fantasy'.
One of the best spots for Barbie fans to visit on vacation is this themed cafe in New York, one of the best cities in America. The pink décor and desserts inspired by the doll make it the perfect spot for the biggest of fans. Malibu Barbie Cafe New York is not the world's first Mattel-themed restaurant, but it is certainly one of the best. The décor is unashamedly frilly, with fuchsia surfboards hanging from the ceilings, a Barbie toy box photo set, and a menu inspired by 1970s Malibu California. Customers can start their order with a Dreamsicle Float, enjoy an Anything Is Possible Sundae, and end the night with a Think Pink Margarita.
Important Note: The Barbie Expo in Montreal is temporarily closed, but predicted to re-open soon! In the meantime, explore the virtual expo.
Even those who aren't die-hard Barbie fans will have fun at the free display at Les Cours Mont-Royal! What could be more fascinating than dozens of dolls donning themed clothes and one-of-a-kind couture gowns by famous designers?
Featuring more than 1,000 Barbie dolls clothed in bridal dresses, couture gowns, and celebrity-inspired outfits, this is the biggest Barbie show. In this exhibit, clothes were made specifically by Luxury Labels Worldwide rather than merely Mattel-designed clothing. It's a display of Haute Couture with garments from Dior, Givenchy, and Oscar de la Renta ꟷ heaven if you love both Barbie and fashion. It's endlessly interesting to look at the precise details on each Barbie's miniature clothing!
For those clients whose childhood dream is to explore a life-sized Barbie DreamHouse, this is the spot to send them! At World of Barbie, guests walk through and experience iconic play sets like the DreamCamper and Barbie Interstellar Rocket. A large collection of famous dolls, iconic pieces of clothing, and other merchandise is also on display. There is even an after-dark experience for adults to enjoy themed drinks and appetizers while walking through the museum. For an additional charge, clients with children (or an inner child) can even build their own Barbie and assemble a custom wardrobe!
Numerous activities with a Barbie theme are currently taking place across the nation. For instance, there are transient Barbie restaurants that pop up frequently. The Barbie Truck Tour, which is simply a Mattel van touring the nation and selling themed goods in various places, is another option. Additionally, some showings of Barbie at select cinema theaters will include photo opportunities and merchandise.
Start Your Adventure With Students Fare!
Greta Gerwig created a masterpiece with Barbie, and as the movie continues to grow in fame, so will the pictures of all-pink whimsical vacations. This guide to real-life movie destinations, and other notable spots, will prepare you for the adventure ahead. For assistance making these bookings, contact the agents at Students Fare. We have an excellent selection of flights, hotels, transportation, and tours for any type of trip – plus student and youth discounts!