Traveling with makeup & toiletries in your bag requires more care and planning than simply picking what color compliments your baggage. Luggage goes through a lot while traveling, and the bumpy ride can result in exploded foundations and crumbled eyeshadow palettes. Many travelers learn this the hard way, but there are tips to packing and travelling with makeup. Read on, and Students Fare will guide you through packing your suitcase or carry-on for a flight!  
If You're Flying: TSA's 3-1-1 Rule
TSA states that bottles or tubes containing liquids may not exceed 3 ounces and all must fit in 1 transparent, 1 quart-sized bag. Hence, the 3-1-1 rule. Following this rule is easy since many drugstores and travel stores sell packs of reusable, 3-ounce travel containers. 
Tips for Traveling with Makeup
Your choice of makeup bag will differ depending on the length of your trip and how much makeup you take. If you maintain that Maybelline look with nothing more than eyeliner and lip gloss, then a small zip-up clutch is plenty. If you're used to using more than a handful of makeup products, seek a travel cosmetic bag that keeps them secure. 
Look for features like: 
Hangers or handles

– for easy carrying and storage in the bathroom

 

Easy-clean

– made of nylon, PVC (durable plastic you see in transparent makeup bags), polyester, or oilcloth

 

Zippers

– super secure and won't pop open

 

Pockets and sleeves

– for easy organization

 
You don't want to carry excess luggage, and that includes makeup. To prevent over-stuffing your bag, mentally review your daily beauty routine. Only note the products you use on an average day, from primer to powder. When it comes to packing the "just-in-case-an-exotic-local-asks-me-out" necessities, think about the dynamic possibilities in your everyday products.
Black or dark brown eyeliner can transform your natural look into a striking smoky eye in minutes. Donning red lipstick come sundown shifts your look from day to evening in seconds. Throw a shimmery eyeshadow in your pack to brighten your eyes and to double as a highlighter.  
Bring Travel-Size, Multiuse Products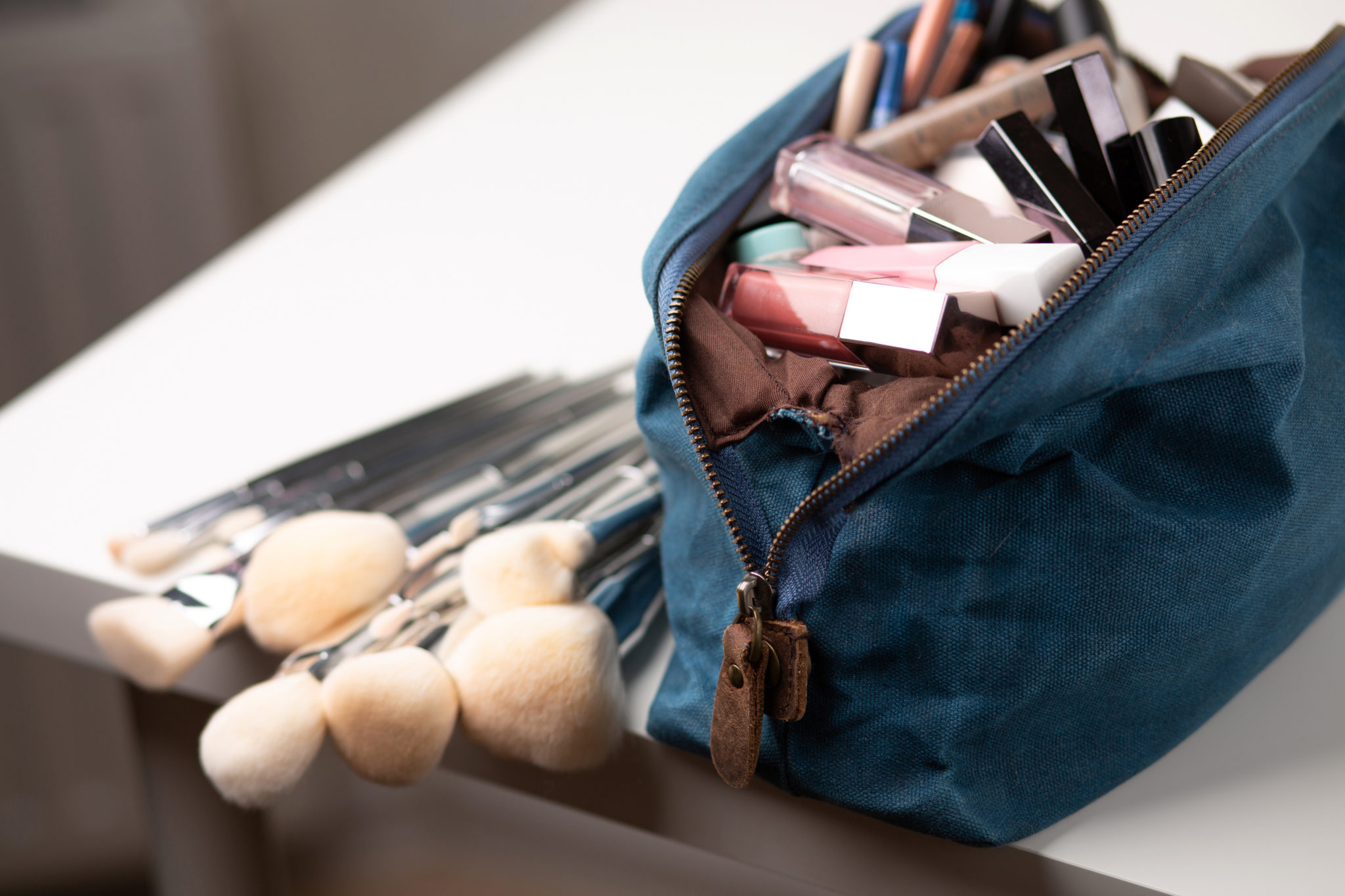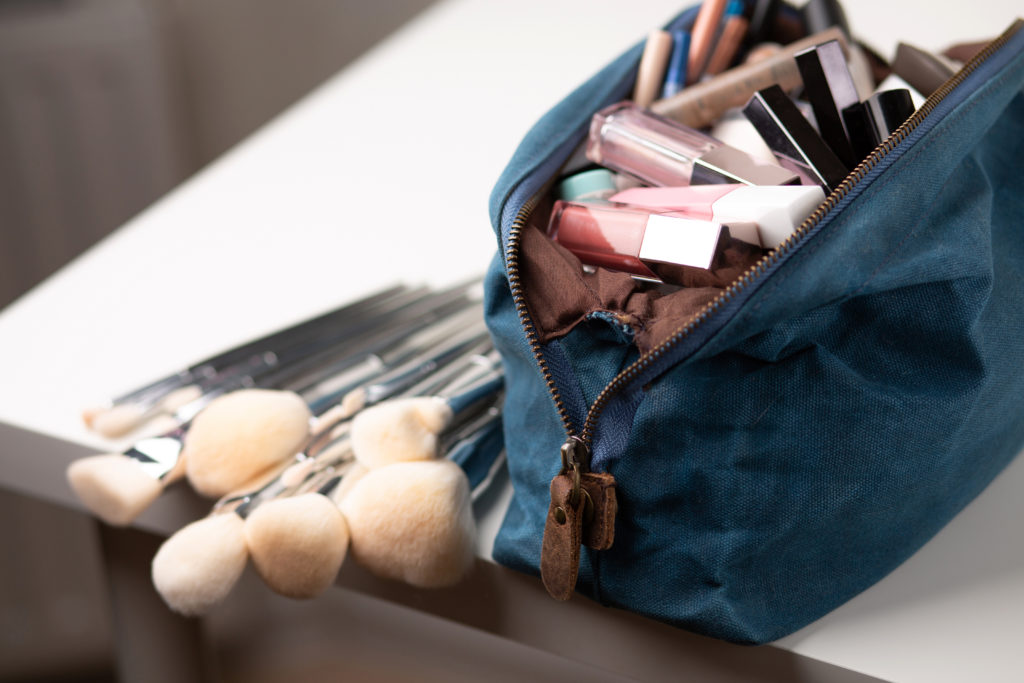 Cut down on baggage by taking travel sized makeup products with multiple uses and being resourceful with others.
A neutral or dark brown eyeliner pencil can serve the same function as an eyebrow pencil, lipstick can double as blush, and moisturizer with SPF can replace sunscreen. A beauty blender is a soft, egg-shaped beauty sponge that tapers at the top. It works with both wet and dry products, and it can be used to apply and blend foundation, highlighter, powder, and blush. Having one can eliminate your need for brushes altogether! 
Secure Bottles and Cushion Powders
It's smart to enclose any liquids or creams in a plastic bag before packing them into your luggage. We're not saying your products are promised explode, but if they do, you'll be glad the mess was contained. A stark change in cabin pressure is often the culprit of this tragedy, so you can keep your products safer and on-hand by packing them in your carry-on.
Just adhere to the 3-1-1 rule mentioned earlier. Pressed powder is at risk of crumbling and arriving at your destination in little mosaic pieces. Loose powder is susceptible to separating from its cap and layering your clothes with an unwanted dusting. Preventing this unwanted debacle can be done either by wrapping or cushioning your makeup bag with your clothes and packing it in the center of your suitcase. 
Pack Makeup for Climate Changes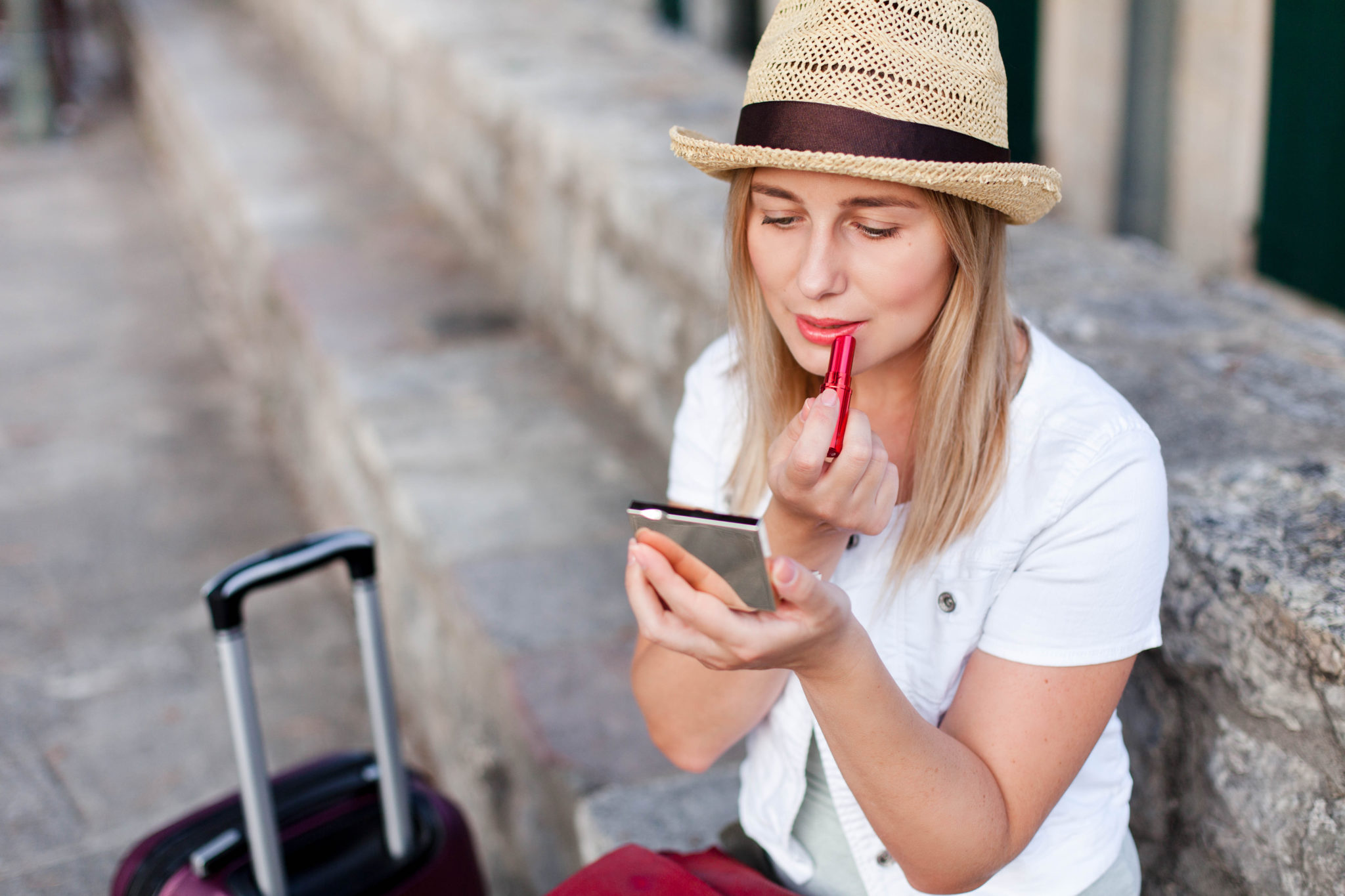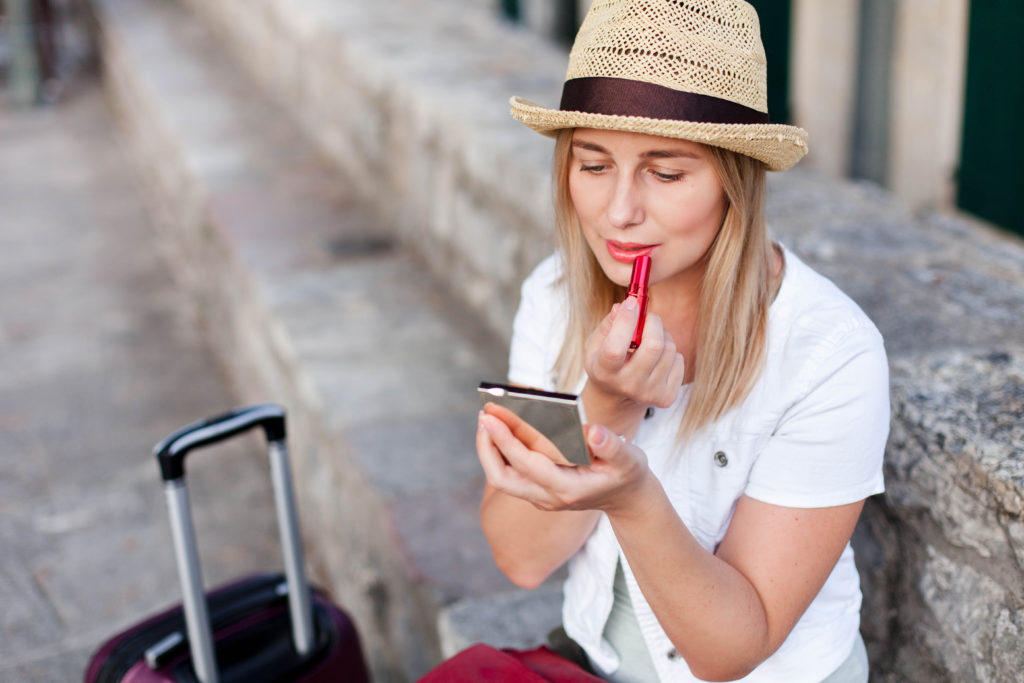 Waterproof products are praised as beauty's best defense against weather changes while traveling. Whether this happens on a humid tropical island or a snow-ridden city, waterproof makeup is your longer-lasting friend. Facial wipes are incredibly useful. One cloth can remove makeup, dirt, and oil from your face with a splash of water, as opposed to face wash that requires a sink and towel for a thorough clean. Save room in your carry-on by packing facial wipes and keep your favorite face wash in your luggage. 
Fly Safely With Students Fare
Being in a new place doesn't mean you have to give up your beauty routine! There are so many experiences awaiting you, and none of them will include you carrying an extra bag of tension while traveling with makeup. If you've landed on a travel destination, and still need airline tickets, hotels, or tours, then Students Fare can help. We'll find the best deals on travel fares, and add exclusive student discounts!